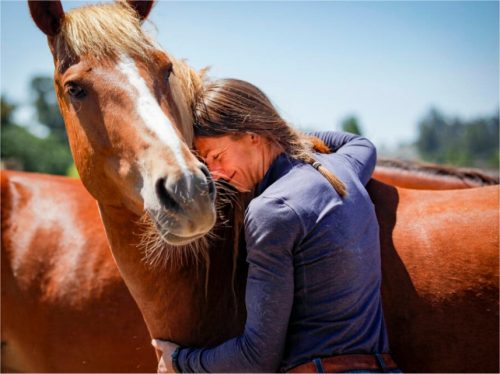 You've probably heard of service dogs and comfort cats. You may even have heard about "horse therapy," the use of horseback riding and other equestrian activities to promote physical, occupational and emotional health. But chances are you're less familiar with the self-improvement practice known as Equus Coaching.
As the name suggests, it does involve a horse – but don't expect riding to be a part of the therapy.
"With our workshops, nobody rides a horse, but they get to be in the presence of one with a different type of intention and hopefully a different lens," explained Mei-Li Hennen a Ph.D in Clinical Psychology and the CEO and founder of Red Door Coaching and Consulting.
Along with Melissa Vashé M.Ed, a certified Equus Coach, Hennen is the co-creator of the Transformational Equus Project, which recently launched Equs Coaching workshop sessions in Sonoma County.
As Vashé explains it, she moved to a dairy farm in Petaluma in 2015 following a series of major life changes. Though she had no prior horse experience, she found herself yearning to ride one. She attended an event at the Sonoma Coastal Equestrian Center, where she was introduced to Hilary Merrill, owner of Rayo Ranch in Cotati. Merrill agreed to work with Vashé, accompanying her each step of the way on her journey to connect deeply with horses. Within a year, Vashé got her own horse, and after learning about the positive effects of Equus Coaching, eventually earned her own certification as an Equus Coach through the Center for Equus Coaching.
As her friendship with Merrill continued, Vashé saw a way to meld Equus Coaching with another practice known as Transformational Coaching. Hennen, who lived in Petaluma at the time, has a background in Transformational Coaching, a form of life coaching. Eventually, Vashé, Hennen and Merrill combined energies to form the Transformational Equus Project, or TEP.
"We wanted to combine our styles to create a workshop that includes both Equus Coaching and Transformational Coaching – though I view Equus Coaching as a transformational approach as well," Vashé said. "I work with a client and a horse, and the horse is a very big part of the coaching process."
As described by Hennen, the coaching process helps clients to improve their lifestyle, accomplish specific goals and dive deeper into self-understanding and awareness. Therapy and coaching, of course, are two different concepts, which is an important distinction.
"Therapy is about historical things like healing from your past so it doesn't haunt you in your present," said Hennen. "Whereas I think coaching is really about focusing on the here and now."
Therapy clearly benefits many individuals across the globe. According to Statista.com, around 41.7 million U.S. adults received mental health treatment or counseling from 2020-2021. Despite therapy being helpful to many, some individuals are hesitant towards treatment, especially when tackling less intensive challenges.
Equus Coaching is not therapy, as its practitioners are not necessarily required to have a therapy license, so that distinction is important. What one gets from Equus Coaching is closer to what you'd get from a life coach – only in this case it's done while hanging out with a horse.
Hennen now lives in Idaho, where she hosts a podcast called "Recovery Plus Podcast: F*ck Yesterday, Focus on Today." With a PhD in Clinical Psychology, a Master's in Child and Family Counseling and an Associate Certification in Coaching, Hennen holds a specific understanding of personal development.
Hennen adds that those dealing with serious mental health issues won't see the same results with coaching. Coaching is helpful for gaining support and focusing on a particular area.
"Someone who has experienced a lot of trauma should probably do therapy as opposed to coaching," she said. "When you can heal from your past and you can be living in the present, I think coaching is really helpful for people who are more well."
With Vashé's educational background and experience as a client of Equus Coaching herself, she brings not only the knowledge of working with others but a unique perspective based on her own experience. Vashé now lives on a ranch in New Mexico, offering coaching and running an AirBnB, while working virtually with clients at Merrill's ranch in Cotati, with the horse-handling assistance of Merrill.
"I guide the session with open-ended questions," Vashé said. "The deal with working with a horse is we start to explore whatever you want and the horse energetically connects."
Vashé believes that horses disrupt any kind of anxiety or issue that clients may be experiencing. Because of this direct approach, the participant and coach are able to dive deeper in a more efficient and timely manner.
"I think they react quickly because they're just pure energy, right?" Merrill said. "Energy doesn't need time to think. So that's what's so beautiful about it. They're not addressing it with human baggage, for lack of a better term. They come with no judgment."
In Merrill's experience, the horse isn't concerned about how it's going to make the client feel as a human would, approaching the session with preconceptions. The horse will respond as it responds, and the coaches work from there by asking guiding questions of the client.
"I'm not going to tell them what I think," Vashé said. "I try to lead them and guide them into understanding or making sense of what's happening between them and the horse and their topic. So it's really experiential, embodied and relational learning."
For Merrill, the Equus Coaching she's experienced with Vashé has been incredibly valuable.
"She's there, very supportive, and asks these amazing questions that are provocative but never leading me somewhere and never pressuring me," Merrill said. "She supports my own exploration, and I feel like that's so empowering because I get to do some of that. I'm not being told how to feel or how to change."
Through the Transformational Equus Project, Merrill is now hosting workshops at Rayo Ranch for now, but the team hopes to eventually expand to other locations, including in Petaluma where it all began. The TEP team is open to suggestions from the public and will design workshops based on the community's interest.
According to Hennen, Equus Coaching isn't just for personal development or tackling emotional issues. It can be used for strengthening relationships, team building, forming closer bonds, mastering particular skills or overcoming weaknesses.
"We can talk about failure, like we hate to fail, most of us do," Hennen said. "But what if we learn how to fail better? What if it doesn't have to be such a huge impact where we feel devastated?"
Attendees of the local workshops could be experienced horse lovers, or people who are somewhat curious about horses, or simply individuals who are just interested in self-development.
"When they leave, hopefully they become more aware of who they are as people, how they communicate, how they can improve their relationships, and maybe build on emotional intelligence," Hennen said. "How can they express themselves more productively and effectively."